A minor earth tremor was felt early Saturday afternoon in parts of southern Finland.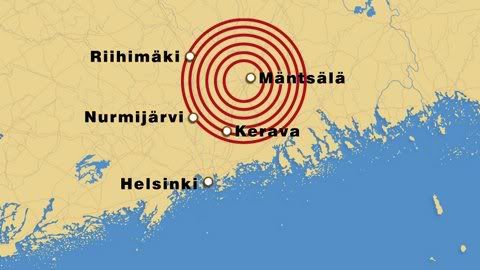 Measuring 2.8 on the Richter scale it shook some buildings in the area. No injuries have been reported.
Reports of the tremor came in from a number of locations in the area of Riihimäki, Hyvinkää, Järvenpää, Kerava, Nurmijärvi and Mäntsälä. The epicentre of the tremor was in the village of Halkia to the south of Mäntsälä.
Fire and rescue' services in eastern and central Uusimaa were alerted to the tremor by dozens of calls from worried members of the public.
Many people also contacted the newsroom of public broadcaster YLE. One eyewitness from Kellokoski near the town of Järvenpää told reporters people ran out into the street when the tremor occurred. Others spoke of the shaking of buildings lasting a few seconds accompanied by sound resembling an explosion. A total of 160 observations were reported by the public both to officials and to YLE.
The Department of Seismology at the University of Helsinki said the tremor measured 2.8 on the open-ended Richter scale. Director Pekka Heikkinen at the department says tremors of this magnitude are not very usual in southern Finland. He noted they only usually occur a few times annually. Earth tremors in Finland are usually detected in northern parts of the country.
Heikkinen added pressure originating from the central Atlantic ridge pushing the Euroasia plate eastwards caused the minor tremor.
Some buildings were shaken in the area of the tremor but no injuries were reported.
http://www.yle.fi/uutiset/news/2011/03/m...47297.html
That's pretty big for this corner of the world