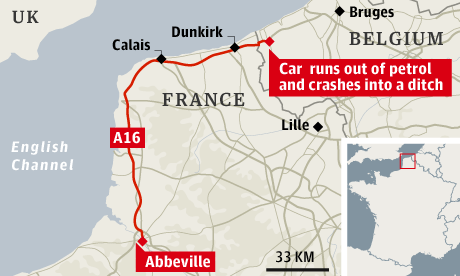 When Frank Lecerf drove off to do his weekly supermarket shop in northern France, he was not expecting to embark on a high-speed car chase that would force him over the Belgian border and on to the national news bulletins.
Lecerf has filed a legal complaint after his Renault Laguna, which is adapted for disabled drivers, jammed at 200km/h (125mph) and the brakes failed, forcing him to continue careering along a vast stretch of French motorway and into Belgium. Police gave chase until he ran out of petrol and crashed into a ditch.
The 36 year old was on a dual carriageway on his way to a hypermarket when the car's speed first jammed at 60mph. Each time he tried to brake, the car accelerated, eventually reaching 125mph and sticking there.
more here:
http://www.guardian.co.uk/world/2013/feb...-car-chase
Edit: All links must go directly to website where the article originates.