ok so my dream this morning before i woke up..
three of us were out on a front lawn at night.
there were a couple guys with me, one was a reporter or something like that.
in the sky a bit over from us, we saw something that looked like a space station. it was
not one but it looked like this somewhat:
and so we were like, what is that??
as i watched it, the atmosphere only around itself changed into something like this:
and then the stars started spinning, kind of like pinwheels..
and i knew something was happening.. it was focusing on me i could feel it.
there was some kind of shimmer that started around it, and it suddenly sent this
mirage-like energy towards me.. and i knew it was going to engulf me.
when it did, i think i must have fallen over because i had the sense of lying on
my side.
and i could 'see', though my eyes were closed, my head full of nothing but very
close together cells. billions of them.. kind of like this,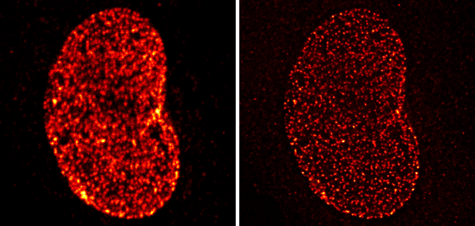 but it was an xray blue kind of light, not red.
and i knew all i was, were billions of cells... and i could look closer and closer if i
wanted to..
but then i woke up.
it was very cool.....
---
Just Plain Nuts.