On Pi Day, finding strength in numbers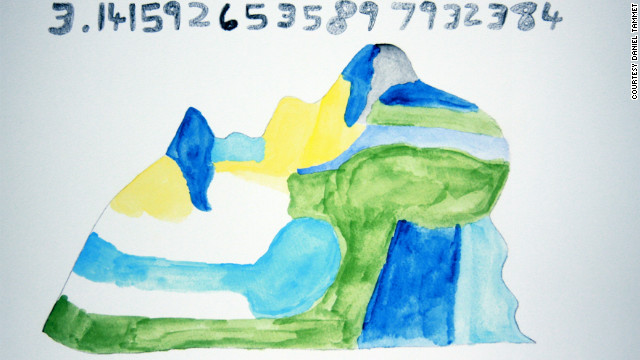 From article:
Quote:(CNN) -- In Daniel Tammet's mind, three is a dotted green crescent moon shape, one is a sort of white sunburst and four is a blue boomerang. Every number has a distinct color and shape, making the number pi, which begins with 3.14, unfold like a beautiful poem.

For math enthusiasts around the world, March 14 (3-14) is Pi Day, honoring the number pi, which is the ratio of circumference to diameter of a circle. On Thursday, Tammet is promoting France's first Pi Day celebration at the Palace of Discovery science museum in Paris.

Tammet's relationship to this number is special: At age 25, he recited 22,514 digits of pi from memory in 2004, scoring the European record. For an audience at the Museum of the History of Science in Oxford, he said these numbers aloud for 5 hours and 9 minutes. Some people cried -- not out of boredom, but from sheer emotion from his passionate delivery.

"What my brain was doing was inventing a meaning, like a story," Tammet said. "What I did was make a poem or a novel out of pi, and took those colors and those emotions and used them to perceive patterns, or at least to perceive patterns in my mind that were memorable, that were meaningful to me."

Many people around the world -- including me -- have been interested enough in this number, or in memorization itself, to see how many digits they can bank. Pi has infinitely many digits with no discernible pattern, yet it mathematically explains the shape of all circles. This makes memorizing it a difficult, yet somehow meaningful, challenge.

Serious pi memorizers such as Tammet have become fascinating subjects of study for scientists, too. They bring up fundamental questions about innate ability vs. learned skills. Are the brains of people with superior memory somehow different? Or can anyone learn thousands of random digits?
Read more:
http://www.cnn.com/2013/03/14/health/pi-...?hpt=he_c1
---
I question the general assumption that felines are inherently deficient in the area of grammar and sentence structure.