Yesterday afternoon, about an hour after sunset we were walking home from the store and were blown away by some very luminous rainbow colored clouds in the sky. In the west where the sun had set the sky was very bright as if it was daylight. It was a spectacular sight and today JR found out what we saw.
POLAR STRATOSPHERIC CLOUDS:
Earth's stratosphere is normally free of clouds. Not this weekend, though. Observers around the Arctic Circle are reporting an outbreak of brilliantly-colored icy clouds in the typically dry and transparent layer of our planet's atmosphere.
These icy clouds are a sign of very cold temperatures. For ice crystals to form in the arid stratosphere, temperatures must drop to around -85º C. High-altitude sunlight shining through tiny ice particles ~10µm across produce the characteristic bright iridescent colors.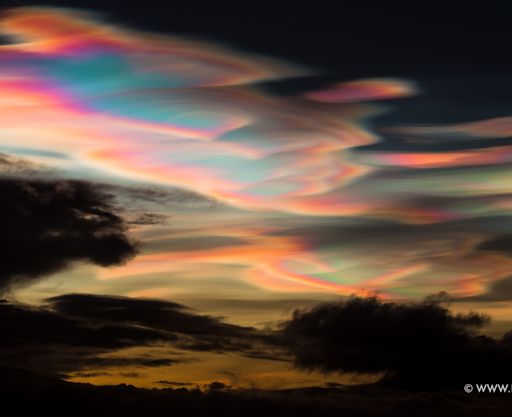 Eric Fokke photographed the display on New Years Eve from the Lofoten Islands of Norway
http://spaceweather.com/