Apes and humans have common ancestors but should they have the same rights? An international movement to give them "personhood" is gathering pace.
What would Aristotle make of it? More than 2,000 years after the Greek philosopher declared Mother Nature had made all animals for the sake of man, there are moves to put the relationship on a more equal footing.
Judges in Austria are considering whether a British woman, Paula Stibbe, should become legal guardian of a chimpanzee called Hiasl which was abducted from its family tribe in West Africa 25 years ago.
http://news.bbc.co.uk/2/hi/uk_news/magazine/6505691.stm
The battle to make Tommy the chimp a person
Tommy is 26. He lives alone behind a trailer sales park in upstate New York. His hobbies include watching cartoons.
He is also a chimpanzee. And now Tommy is at the centre of one of America's more curious legal battles.
A lawsuit submitted by a group called the Nonhuman Rights Project (NhRP) seeks to have Tommy recognised as a person under law.
It's a case with potentially radical implications, challenging as it does human society's very understanding of rights.
For his part, Tommy is blissfully unaware of the legal kerfuffle surrounding him. He lives behind Circle L Trailer Sales, along Route 30 near Gloversville, New York. The site is also home to a business called Santa's Hitching Post that rents out reindeer at Christmas.
The quality of his accommodation is a matter of dispute. A 79-page legal brief submitted by the NhRP claims that the chimp is kept in a "small, dank, cement cage in a cavernous dark shed".
http://www.bbc.com/news/magazine-2954282...ow_twitter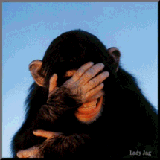 ---
Life is like a penny, you can spend it on what you like, but you can ONLY spend it once.
https://twitter.com/NigelLondon2014