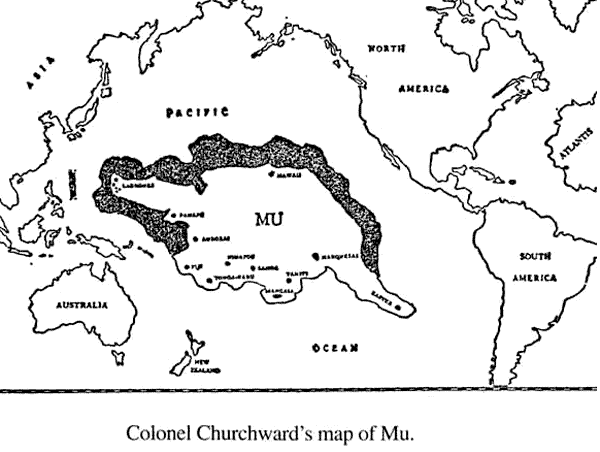 In 1920, the British-horn Churchward came out with his first in a series of five hooks, The Lost Continent of Mu, prefaced by an admonition to "all scientists" to please copy for future reference. important points of pre-history and anthropology he had compiled through more than 50 years of research and exploration throughout Asia and the South Sea:
"There was once a flourishing continent in the middle of the Pacific Ocean called Mu ... The greatest tragedy of mankind occurred when Mu sank, carrying down with her 63.000,000 people and a civilization approximately 200,000 years old.
This civilization was at its peak before the mountains were raised, when according to Charles Darwin, man was still closely related to the monkey ... South America at that time had an inland sea comparable to the Mediterranean today. The Incas and the Mayas of prehistoric times were the dying embers of an earlier civilization.
The oldest records of mankind are right here in our own country, which was one of Mu's first colonies ... Records in Tibet over 70,000 years old, show communication with South America, as well as with China.
Egypt, India and Africa... Man did not "evolve" after the Glacial Period because there was no Ice Age. When Mu sank and the mountains were raised, man degenerated into the savagery out of which our own civilization emerged."
Before the shock waves had settled, the Colonel followed quickly with his companion editions, The Children of Mu (1931), The Sacred Symbols of Mu (1933), and Cosmic Forces of Mu in two parts, 1934-35.
http://www.bibliotecapleyades.net/arqueo...ward02.htm
Fascinating read this.
---
Life is like a penny, you can spend it on what you like, but you can ONLY spend it once.
https://twitter.com/NigelLondon2014