This Is How Empires Collapse
This is how empires collapse: one complicit participant at a time.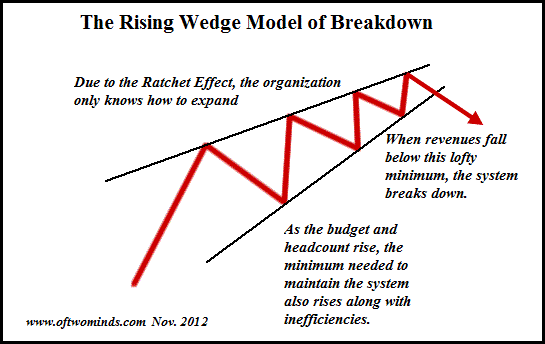 Before an empire collapses, it first erodes from within.
The collapse may appear sudden, but the processes of internal rot hollowed out the resilience, resolve, purpose and vitality of the empire long before its final implosion.
What are these processes of internal rot?
Here are a few of the most pervasive and destructive forces of internal corrosion:
1.
Each institution within the system loses sight of its original purpose of serving the populace and becomes self-serving.
This erosion of common purpose serving the common good is so gradual that participants forget there was a time when the focus wasn't on gaming the system to avoid work and accountability but serving the common good.
2.
The corrupt Status Quo corrupts every individual who works within the system.Once an institution loses its original purpose and becomes self-serving,
everyone within either seeks to maximize their own personal share of the swag and minimize their accountability, or they are forced out as a potentially dangerous uncorrupted insider.
The justification is always the same: everybody else is getting away with it, why shouldn'tI?
Empires decline one corruptible individual at a time.
3.
Self-serving institutions select

sociopathic leaders

whose skills are not competency or leadership but conning others into believing the institution is functioning optimally when in reality it is faltering/failing.
---------
---------
That's how empires collapse: one corrupted, self-serving individual at a time, gaming one corrupted, self-serving institution or another; it no longer matters which one because they're all equally compromised. It's not just the border legions that are phantom; the entire stability and strength of the empire is phantom. The uncorruptible and competent are banished or punished, and the corrupt, self-serving and inept are lavished with treasure.

This is how empires collapse: one complicit participant at a time.
http://www.zerohedge.com/news/2014-04-23...s-collapse
---
You can become a slave only by voluntary consent.
I am highly allergic to

circumcised souls

and

red flags

with

Venusian star

on them.