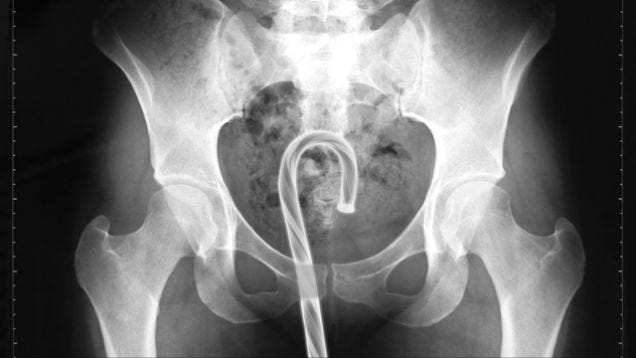 It is time to sound the depths of the U.S. Consumer Product Safety Commission's database of emergency room visits. Below are the strangest, most awkwardly shaped, and least pleasant objects that America has shoved into its various holes.
I'll list a few...
Ear
"PLACED TOILET PAPER IN EAR SO WOULDNT HAVE TO HEAR NEIGHBORS"
Nose
"WAS LAYING ON HIS BACK AT SCHOOL WHEN AN ERASER FELL INTO HIS NOSTRIL"
Throat
"ACCIDENTALLY SWALLOWED A PILL BOTTLE WHEN TAKING HIS MEDICATION"
Penis
"HAD PEBBLE STUCK IN PENIS WHILE SWIMMING IN A LAKE 3 WEEKS AGO"
Vagina
"SAT ON THE TOP OF A DOLL HOUSE AND THERE WAS A SPIKED ROOF"
Rectum
"PER WIFE PATIENT SAT DOWN ON A SCREWDRIVER AND IT WENT UP HIS RECTUM"
uh huh
Don't we all hate it when that happens.
Read more:
https://adequateman.deadspin.com/what-di...1790335507
OMFG.
---