Christmas prepping
Prepping all sorts of food stuffs!
We're having Christmas dinner with my mom and dad who of course want a traditional Finnish Christmas dinner with all the trimmings while me and my kids have moved on to new traditions with more of a more Americanized menu. I'm making roasted green beans with cranberries and pine nuts, a small roast beef, oyster dressing and garlic potato au gratin, deviled eggs and all kinds of goodness.
Oh and chocolate mousse in gingerbread bowls!
A Finnish Yule dinner has a ham of course, casserole dishes made with carrots and rutabaga, beet root salad, gravlax, pickled herrings and maybe some meatballs, tiny sausages and basically way too much food of every kind.
What are you eating this Yule?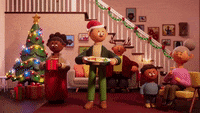 Topic starter
Posted : 23/12/2022 8:11 pm
wow! Thats an amazing feast octo, congratz. For us, we dont pull out all the stops since gaveup inviting family over. So much stress. Our dinner will be a nice spiral ham with orange glaze, butter rolls and salad plus custard pie. Not too bad.
Posted : 23/12/2022 9:24 pm
It's usually roast chicken and vegetables etc, sometimes seafood, as it's pretty warm outside. 
Posted : 24/12/2022 2:13 am
..sounds fantastic Octo..
i had christmas plans but too cold out so will do classic ham holiday dinner here at home instead 
Posted : 24/12/2022 9:33 pm
We celebrate Christmas on Christmas Eve so I already had that delicious dinner. I'll actually have it for many more days as I didn't get to share with my parents
Topic starter
Posted : 25/12/2022 1:57 pm
Posted : 25/12/2022 6:52 pm
@octo Merry Christmas, Happy Yule.

we're having Lobster Sciampi, and I'm sure a host of vegetables.

Your dish sounded great!
Good to see you Bohica!
I hope you and your family had a wonderful Yule!
Lobster scampi sounds decadent
Topic starter
Posted : 29/12/2022 4:22 pm
A little culinary decadence it's good once in a while.
Whole beef loins were on sale two weeks ago, and I bought five of them, giving us about 45 filet mignon's.
i've been eating pretty good, Kathy is an excellent cook with very balanced meals.
On the medical front, I've had more things stuffed into each end  then I knew existed.
Everything looks good, and yesterday I got a call saying that the polyps found in my colon were benign. I told them in that case I want them back.
I'm scheduled for prostate surgery in mid January, and the doctor said after it I will still feel like I have climax, but nothing will come out. My reply was "good, no wet spot".
Posted : 29/12/2022 4:45 pm
Oh man I missed this post. I had my kids home and worked this weekend. Glad to hear this update! All the best to you and your family!
Topic starter
Posted : 08/01/2023 10:11 pm